Spotify is bringing together two of the world's biggest legends of music and football for an iconic moment during one of the world's biggest matches. On Saturday 28th October, the Tongue and Lips logo of The Rolling Stones (Mick Jagger, Keith Richards, Ronnie Wood) will replace the Spotify logo on the legendary FC Barcelona kit, putting the band that has played the iconic stages of the world on the global stage of El Clásico for the first time.
The Rolling Stones' iconic sound has been the backdrop for listeners worldwide on Spotify, soundtracking the lives of fans near and far, young and old. That's why the special match kit featuring The Rolling Stone's iconic Tongue and Lips logo will be worn by both the men's and women's teams to celebrate the release of their first album of original material in 18 years, Hackney Diamonds, on October 20th. The new album is a summation of the band's remarkable 60-year journey, and proof that the journey is far from over.
The band shared the news on social.
FC Barcelona will also share a special edition of the popular Barça Matchday playlist on Spotify featuring top rock songs to motivate the players and fans in the build up to the game, which includes music from The Rolling Stones.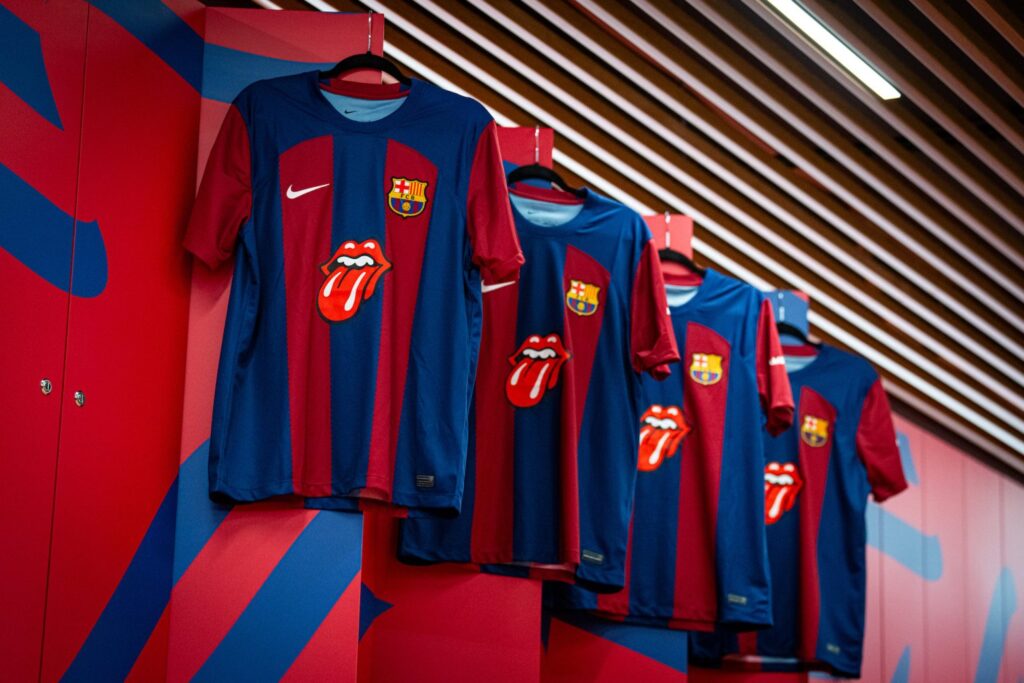 As an additional bonus for fans, the limited edition jersey will be available to purchase via FC Barcelona Store on Monday, October 23rd. There will be 1899 jerseys available to purchase, inspired by the club's founding year. Additionally, the site will offer a very special collection of 22 jerseys signed by the 11 starting men's and women's team players for purchase.
The Rolling Stones, said: "We're huge football fans and honoured that Spotify have brought our Tongue & Lips logo to grace the FC Barcelona shirt to celebrate the release of The Stones' new 'Hackney Diamonds' album. We'll be cheering on the players on the pitch as well as fans around the world who will be tuning in to watch this iconic match."
For the first time, Spotify and FC Barcelona are debuting a limited edition lifestyle collection of clothing including t-shirts, hoodies, bomber jackets, bucket hats and more featuring the iconic Tongue and Lips logo of The Rolling Stones in a custom football design alongside the iconic football club's badge and Spotify logo. The creative for the collection was shot at Electric Lady Studios, in NYC where songs from Hackney Diamonds were recorded. This imagery celebrates the worlds of football and music coming together for this collaboration and takes the iconic match day shirt transforming it into a piece designed to be worn and styled off the pitch. The collection can be purchased starting October 23 via FC Barcelona Store.
Speaking about the collaboration, Marc Hazan, VP Partnerships, Spotify said: "It's an honour to feature the legendary Rolling Stones on the legendary FC Barcelona shirt. Only Spotify could bring The Rolling Stones to the global stage of El Clásico – one of the few stages they haven't played!"
Juli Guiu, VP Marketing, FC Barcelona said: "Yet again our collaboration with Spotify has taken things to the next level. Bringing together two icons – The Rolling Stones logo and the Barça jersey – is a special moment for our fans around the world. Music and football form a special partnership with a long future ahead of them and we are happy to add another chapter to the story alongside Spotify."